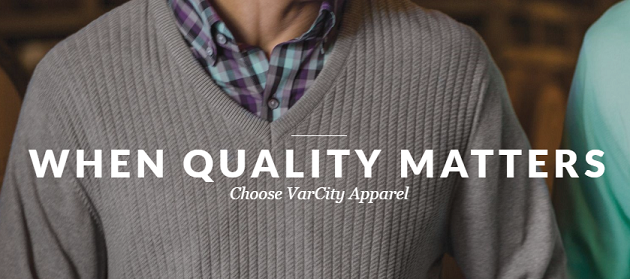 When Quality Matters–at VarCity Apparel.
Delivering apparel of the highest quality is our number one priority, and we want our website to reflect our core values. That being said, we decided to do a complete facelift of our website at www.varcityapparel.com.
It is essential that the starting point of our journey together is a reflection of how the rest of it will go–sleek, simple and smooth. We want to give you the product you seek without any of the added stresses. Our new website is simple to navigate, with a new, comprehensive FAQ to help answer any questions you may have.
We give you more than hassle-free processes–we give you sophisticated, elevated designs that will capture the brand awareness you seek. Paired with top brands like Patagonia, Charles River Apparel, and more, it's a fashionable match. Our website needs to be synonymous with the fashion forward apparel we will deliver, 100% satisfaction guaranteed.
We also want our new website to easily showcase our range of capabilities–because when you compete, you aspire to play at the Varsity level. Any size project, on time, from a one-time event to an online shop, applique to screenprinting, we got you covered!
One thing that remains the same with our new website, is our blog. We love to highlight the businesses and important causes that we support in their missions! Be sure to check out our other blog posts, and check back for future project updates.
Promotional products and apparel are a major key to elevating your product to the next level. Join us on the VarCity level.
To get started on your journey to maximizing brand awareness, Contact Us today at sales@varcityapparel.com.